The Viper is our most versatile, do everything suit. If a flyer can only choose one suit for all their flying, the Viper is a solid, well-rounded suit. Suitable for both sky and tunnel in all flying angles. This is iFly's instructors model of choice. Perform at your highest level when flying with a jumpsuit that fits like a second skin and gives you the power you need when you need it the most.
Features
Flying type
Belly flying, back flying, sit flying, head down, tracking and angle flying
Optimized for Skydiving and Tunnel flying
Suit Fit
Form fitting suit. 
Choice of tight or medium
Materials & Construction
Choice of 4-ply Taslan or Cordura 160, Cordura and Schoeller Windproof Spandex
Windproof YKK zipper on torso and inside pocket
Windproof spandex articulations on shoulders, elbows, back, torso side, hip flexers, above and behind knees and on crotch
Seat and articulated knees in Cordura
Double stitched seams with bonded thread
Reinforcement in key areas for extra durability
Standard Options
Mesh lining on torso, arms and legs
Inside chest pocket
Choice of 2 lower leg styles and fabric type
Choice of cordura 160, taslan or nylon on torso and arms
#verticalvipersuit
Customer Reviews
Write a Review
Ask a Question
Filter Reviews:
suit
Vertical
customer service
measurements
quality
experience
order
tunnel
team
everything
Viper suit
Hi all, Dealing with vertical custom suits was awesome. They Al were super accommodating during the planning. The fit instructions were very detailed, and they checked up to make sure on a few of the ones that seems odd. The suit was made and delivered in 5 weeks, and if fits perfectly. This is my third suit brand, and it is by far the most superior fit and finish. Vertical are priced a little higher than most others, but you will save in the long run if you just buy one straight up. Well worth the cash!
19/09/2022
Kate L.

United States
Disappointed-I'm so sad
Had to be measured three separate times before my suit would go to production and it still doesn't fit. Quality and design is great-no complaints. Now they want me to get measured again and send it back to Canada for alterations. I wish I would have gone with a different manufacturer.
18/07/2022
KAAN B.

United States
Red Viper Suit
Thank you very much.As always i was very happy with your product and customer service
30/05/2022
SCOT O.

United States
Great Suit
Several weeks after receiving the suit I received a email asking if I received the suit and how it fit. Good follow up. I will use Vertical Suit again and would recommend this company to others.
19/05/2022
Robert H.

United States
Vertical Suits
Start to finish my experience was fantastic, my son and I both ordered custom suits and both were perfect and fly perfect!
02/05/2022
Tamara B.

United States
Love my Vertical!
Vertical was incredibly helpful with my order. I'm very particular about the color of the fabrics, and Vertical did a great job sending me pictures of swatches, answering all my questions both asymmetrical coloring and embroidery. I'm so pleased with how my suit looks, how it fits and how it flies.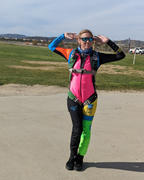 17/03/2022
Tylor H.

Canada
Committed to keeping you happy!
It was great that they followed up with any concerns regarding measurements and took a look at previous orders and got your feedback on how the previous suits fit.
17/03/2022
Neil J.

United States
Excelsior!
Worked with me to deliver a suit with supplied fabric. All went smoothly, perfect fit. Highly recommended.
10/03/2022
Steve H.

United States
Phenomenal experience
Vertical is the best at what they do. This is not my first experience and they are always top notch from start to finish. Will def get more suits from them in the future.
10/01/2022
Laura G.

United States
First time purchase of freefly suit
This was my first time ever ordering a freefly suit and I was a bit nervous given the array of specific measurements and wanting to get a suit that fit perfectly. Bev was so great and even checked back with me when a couple of the measurements seemed a bit off, double checking the accuracy and giving tips to make sure they were exact. The suit fits absolutely perfect and is gorgeous to wear. I love my new suit and I cannot speak highly enough about the entire Vertical suit staff to ensure that I was 100% happy with it. Would recommend them hands down every time!
24/09/2021
Stephen K.

United States
The difference is in the details
Decided to finally try out Vertical suits after flying with other brands for years, and I am glad I did. It can be expensive with all the add ons, but you get what you pay for and the quality of the suit is amazing! It's a worthy investment and a great all-around suit.
05/09/2021
Adam M.

United States
Vertical = Quality
Excellent customer service - Excellent product
15/06/2021
seth s.

United States
Amazing fit, awesome customer service, and made/delivered w/ impressive speed.
Still not sure how you were able to make a custom suit and have it DELIVERED in only 7 days but the fit is perfect and you guys absolutely rock. I will be a vertical customer for life.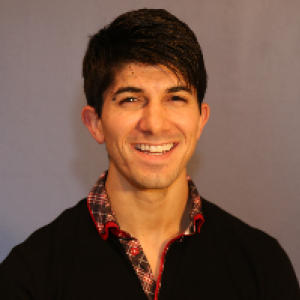 BD
14/06/2021
Bryce D.

United States
Quick and excellent quality
The Vertical team was great with communicating to me any parameters with the order that needed to be double checked. After confirming the results the suit was in my hands earlier than expected. I love jumping in the suit. It feels very durable, but also flexible.
14/06/2021
Stephanie S.

United States
Perfection
The rigger I had measure me had the torso and arm measurements off in absurd ways. Vertical was diligent and communicative to ensure everything looked perfect. And that it is. The suit is much lighter material than I anticipated and breathes well. Customer service was beyond incredible and they did a fantastic job all around.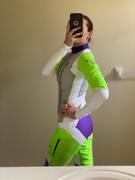 19/05/2021
Joseph I.

United States
Another great suit with great service!
My third Vertical suit, and all three have been great! I especially appreciated the quick emails to alert me they something wasn't adding up with the supplied measurements, without which it may not have for right. Fast production and fast responses. Vertical rules!
17/05/2021
Reed S.

United States
Customer for Life!
I am very happy with my suit. This was my first time ordering a freefly suit. Your team is very easy to work with! Bev is great! After getting measured by three different friends, she made sure that everything was correct. She was very patient and walked me through the process. When my suit arrived it fit perfectly. I had a chance to fly it a few days later and it felt amazing! I couldn't be happier. I am already thinking about ordering another suit. #customerforlife @inkmonstr @reedinkmon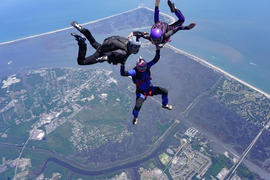 26/04/2021
Nikki W.

United States
15/03/2021
Gabr C.

United States
Great fit, great quality, great communication
The Vertical team was amazingly communicative from start to finish. Did an awesome job reaching out to confirm measurements and making sure we had all the custom embroidery locked in before production. Suit came very promptly in line with their predicted delivery date. Performance could not be better! Outstanding in the tunnel and in the sky!