Specifically designed for flyers who need a cooler option when flying in warm climate. Suitable for both sky and tunnel in all flying angles. Perform at your highest level when flying with a jumpsuit that fits like a second skin and gives you the power you need when you need it the most.
Features
Flying type
Belly flying, back flying, sit flying, head down, tracking and angle flying
Optimized for Skydiving and Tunnel flying
Suit Fit
Form fitting suit
Choice of tight or medium fit
Materials & Construction
Choice of 4-ply Taslan or Cordura 160, Cordura and Schoeller Windproof Spandex
Windproof YKK zipper on torso and inside pocket
Windproof spandex articulations on shoulders, elbows, back, torso side, hip flexers, above and behind knees and on crotch
Seat and articulated knees in Cordura
Double stitched seams with bonded thread
Reinforcement in key areas for extra durability
Similar Models
#verticalvipersuit
Customer Reviews
Write a Review
Ask a Question
Filter Reviews:
suit
customer service
quality
pleasure
Vertical
rocket
collar
upgrades
sizing mismatches
love
Rugged yet comfy...
Versatile and comfy. What more can you really ask for? Construction that will last a LONG time with comfort that is unmatched.
07/07/2021
Chazi B.

United States
24/08/2020
Drew P.

United States
Viper Shortie Suit, amazing!
Customer service during the sizing was spot on; was contacted via email to confirm some sizing mismatches. Worked out perfectly. From order to delivery, 7 weeks and the wait was worth it all. Colors were spot on and the fit is incredible. Had a few upgrades (pockets and collar) worth every dollar extra. Really makes the suit feel more personalized. It breaths well, flys like a rocket and overall just is a badass suit! I will be buying another suit for cooler months in the very near future. VS for life now!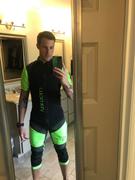 16/04/2020
Bryan M.

United States
Great Suit
Great looking and fitting suit. Ver comfortable. I will definitely be buying my next suit from these guys again. The quality of the suit and customer service was excellent.
High quality product !!!
Excellent fabric Great tailoring Comfortable in every way Would definitely recommend it for those who are hesitating where to buy their suit. Customer service is amazing they reply in an instant . Its amazing in the sky, light yet effective Thanks Vertical!
Amazing suits!
This is my second purchase from Vertical Suits in less than a year. I purchased the Viper back in December and now the Viper Shortie. Amazing quality, communication and turn around time! The customer service is fantastic!! Will definitely order from them again!
SO
20/08/2018
Sergio O.
Just when you thought it couldn't get any better
I received my Viper Shortie Suit just in time for the 200-Way Vertical record attempts. I wanted to have a summer suit and also one that allowed me to have a broader speed range since my slot in the record demanded speed out the door and during the long dive (I was second to last out of lead plane) but would slow down enough for the outside of the formation. It performed beautifully as expected and it was so comfortable I would sometimes forget to take it off during packing or debriefing. I've been using Vertical Suits in the sky and in the tunnel for a long time and I couldn't be happier of our ongoing relationship. Sergio "Azul" O'Farrill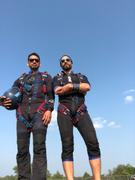 Vertical did it again
After purchasing a suit 8 months ago, I couldn't wait to get my hands on another one. Being that its summer, I of course wanted something that fits the Texas temps. So I went and bought the shortie. Man man man, I thought I was as impressed as I could be with the first suit but they proved me wrong again. They were just super helpful as always. They were in constant communication with me as soon as I hit the purchase button to make sure everything was the way that it should be. And putting it together was lightning fast. I got my suit in less time than they said. The comfort level of the suit is remarkable. Fits all of my needs and then some. Thanks vertical. I will be buying another soon for sure.
Effortless ordering, great production time, excellent craftsmanship
Vertical has an incredible online ordering platform making the process very easy and with online paper trace. Receiving a mock draft of the suits and its embroideries makes it for a very satisfied customer. I loved being able to track where my suit was in the process. Very clever!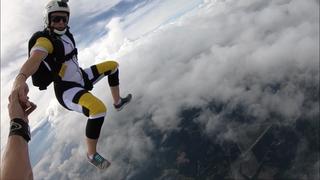 Second suit and still Amazing!
Again very easy and a pleasure.
Viper shortie, in love!
I am absolutely thrilled with my new viper shortie. This is the second suit I've had made by vertical. I was lucky enough to have my full length suit measured with Vlady in person and was able to use many of those same measurements with confidence that it would fit. I received the suit in less than four weeks and it fits amazingly and flies even better. The colours are perfect. I will continue to encourage people to buy from vertical and see myself being a future customer again if I am in need of more suits. :) thanks again!
Sorry about late, but i
Sorry about late, but i havent tried yet. The suit is perfect, thanks for that!!
Jory S.
I love my vertical suit. You guys do great work and as of now every suit I order or refer to people will be vertical suits!!
High quality and perfect fit
Building a suit is easy on the website. Suit showed up perfect fit exactly how I ordered it.
Perfect fit, beautiful quality, excellent
Perfect fit, beautiful quality, excellent embroidery. Very happy
Love My Viper Shortie and Everyone Who Made It Happen
Excellent experience and customer service from getting fitted, wait time and delivery. The product is even better than I hoped for. Thanks to everyone at Vertical Suits for their help!