Specifically designed for flyers who need a cooler option when flying in warm climate. Suitable for both sky and tunnel in all flying angles. Perform at your highest level when flying with a jumpsuit that fits like a second skin and gives you the power you need when you need it the most.
Features
Flying type
Belly flying, back flying, sit flying, head down, tracking and angle flying
Optimized for Skydiving and Tunnel flying
Suit Fit
Form fitting suit
Choice of tight or medium fit
Materials & Construction
Choice of 4-ply Taslan or Cordura 160, Cordura and Schoeller Windproof Spandex
Windproof YKK zipper on torso and inside pocket
Windproof spandex articulations on shoulders, elbows, back, torso side, hip flexers, above and behind knees and on crotch
Seat and articulated knees in Cordura
Double stitched seams with bonded thread
Reinforcement in key areas for extra durability
Standard Options
Mesh lining on torso, arms and legs
Inside chest pocket
Choice of cordura or taslan on lower legs
Choice of cordura 160, taslan or nylon on torso and arms
Similar Models
#verticalvipersuit
Customer Reviews
Write a Review
Ask a Question
Filter Reviews:
suit
Vertical
customer service
email
flying
dream
order
Vlady
shipping
company
09/02/2023
Matt D.

United Kingdom
Well made but ill fitting
Easy to measure and order, helpful staff Sadly on arrival, doesn't fit as well as I'd like. Asked for tight fit but torso and arms (even if short by design) are a bit baggy resulting in "tunnel whip" across chedt and arms
17/05/2022
Brett B.

United States
Couldn't Be Happier
"Pre-second" suit from Vertical and couldn't be happier with the design, fit, and above all else the flying in the tunnel and the sky. Overall customer service as well as the measurement confirmation from Bev and the lightning fast shipping were first class. 10 of 10 would recommend.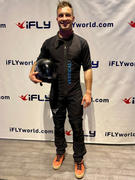 19/10/2021
John B.

United States
05/08/2021
Tyler B.

United States
#3 Top Quality Per Usual
Working with Sandra, Vlady & the Vertical Suits Team is always a pleasure. Third suit I have ordered from them now. Ecstatic to have the Viper Short Sleeves suit for those hot summer days!
25/10/2020
Monica N.

United States
Vertical Viper Short Sleeves Suit
My experience was amazing! I had to change the email for my account, and Vladi was super helpful. My suit came on time and it fits perfectly. Couldn't be happier!
27/11/2019
Wayne (.

United States
Viper short sleeve summer suit
I have been flying a raptor for a few years and loving it. It's however too hot during desert summer heat. So I ordered abs bought a Viper shirt sleeve. Ir fits a little tighter than the Raptor and flies a bit differently. I already knew I used my arms to much to fly, the Viper MAKES me fly better legs. So far it's been great, although i only have a few jumps on it. Waiting for the weather to warm up now.
03/09/2019
David P.

United States
Vertical demonstrates that it's the best in the business.
I've been wanting a custom suit for a few years now and finally pulled the trigger. After submitting my order with measurements, the communication between the company and I was solid. Their pattern maker contacted me and noticed that some measurements were off and wanted me to double check. That's very professional and I was more than happy to recheck. Sure enough, he was right. The suit fits like a dream and I would not hesitate to buy another suit from Vertical.
Love my new TEEM VFS Vertical suit!
Great suit. Timely production and shipment. Very happy with the team at Vertical suits!
Needed a new suit in a pinch!!!
Pleasant!!! Quick and easy! Love the fit and design
my suit
You guys are awesome great customer service and a great product.
Perfect
Fits me really good,feels even better Thanks to brad cole and anelisse temple and vertical staff Blue sky
Viper Short Sleeves
My Viper is my favorite suit and fits perfectly. I'm very happy with Vertical and the customer service is incredible. I will be back for my next suit!
Viper short sleeved, Houston, TX 2016
My suit arrived perfect. It fit perfect and it looked great. The looking great part was all me but the construction quality was all Vertical. They did a good job. I have two suits from Vertical Suits. A tunnel pro suit and my new Viper shorty suit. Love both. I will buy again when I wear these two out.
I Love My Vertical Suit!
I've had the long sleeve Viper for two years now. It's taken hundreds of jumps and numerous hours in the tunnel and is still completely in tact. It's comfortable, looks great, and best of all, I love the way it helps me fly! Let me know if there's a place to submit a photo, I'll show you how great it still looks after a lot of abuse!
THE Viper suit
Just Wow, amazing suit and fly like no one. Flying like a PRO but i'm not one of them!!! Fit like a glove and i feel having nothing on me, very stretchable, articulated, nice color and people said, Nice suit. High quality fabrics and sewing job indestructible.