A strong, well-rounded, highly customizable suit. Our Z-Suit features a classic design which is very versatile and performs well in every flying angles while providing the best comfort and durability you can get on today's market. This is the best choice for camera flyers wanting a full suit with wings.
Features
Flying type
Belly flying, back flying, sit flying, head down, tracking, angle flying and camera flying
Optimized for Skydiving
Suit Fit
Medium fitting suit
Choice of tight, medium or loose fit
Materials 
& Construction
YKK coil zipper on torso and inside pocket
Lycra spandex articulations on back and crotch
Option to add wings
Double layers on knees and seat
Double stitched seams with bonded thread
Reinforcement in key areas for extra durability
Standard Options
Inside chest pocket
Choice of 3 body fit: Tight, Medium and Loose
Similar Models
#verticalZsuit
Customer Reviews
Write a Review
Ask a Question
Filter Reviews:
suit
Vertical
drag
quality
material
skydive products
design work
features
fits
process
02/02/2023
Jack B.

United Kingdom
07/11/2022
Craig N.

United States
Z Suit for belly flying
The suit fits fine and appears to be well constructed.
31/10/2022
William L.

United States
Z suit
First class experience and the fit and function is superb!!!
10/11/2020
Craig A.

United States
Z Suit for filming!
The awesome folks at Vertical sent me my slow-falling Z Suit just in time to film some freestyle at Skydive Arizona. The listened to my concerns and sent a suit that fit great but with enough drag to fly with some slow-falling competitors. Thank you so much Vertical!
13/07/2020
Fuad M.

United States
Z Suit
The suit is awesome! This is my second VS suit, and the quality is absolutely the best. I needed a suit to fly with a "floaters" and this suit fits the bill. Extra material on the legs, torso provides extra drag for stable belly fly and solid RW. It also gives enough flexibility for some mild FF. Extra material on the legs provides enough power for a solid track. Suit fits like a glove. Special shoutout to Sandra, Vladi, and entire VS crew for outstanding customer service and solid professional advices.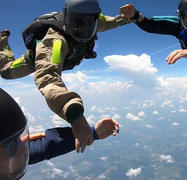 03/10/2019
steve h.

United States
Happy with the suit, a little to be desired on the service
I didn't really shop around when it was time to have my first jumpsuit made. All of my instructors and peers said Vertical was the only way to go. We measured and ordered, paid and then waited...and waited...and waited. I'm well aware that busy season is well, busy. I'm also aware that things don't always go as planned and nobody hits the mark every single time and that there isn't a company on the planet that fires on all cylinders all the time. My disappointment was in the communication throughout the process. Keeping me updated as to where my suit was in the queue and immediately contacting me to let me know of any delays or changes. I even sent a status request through the site and got no response. I'm blown away by the quality and precision of the suit. It fits and feels better than it looks. I'm not saying I'll never buy it that l'll talk badly. I'm just saying that there WAS the chance that I'd never look anywhere else for another suit. Was.
Fits Great, Flies Better
I recieved my Vertical Suit a couple weeks ago. The suit fits great and flies even better than I expected. I will be a repeat customer.
Another GREAT suit from Vertical!
Just got my 4th Suit from Vertical...they are great, awesome features, great design work and they wear like iron...thanks for making such great skydive products!
First purchase
First purchase from Vertical and it went perfect. Suit is of the highest quality and will last.
Perfect
Customer Support and product quality were both amazing. Just got to try it out this last weekend and makes a big difference for consistent flight and prevents any loose clothing from covering handles. Really happy with Vertical Suits and they delivered faster than advertised. A little expensive but the quality made it worth every penny. Will highly recommend to anyone.
Another Satisfied Customer
Outstanding suit, fit and service! Great bunch of folks to do business with. I look super cool now. Thanks!
Great suit fast delivery time
Exactly what I wanted a great flying and great looking everyday freefly suit. That came in about 3 weeks awesome Thanks Andy Farrington
My gray suit.
Fits good, very easy to order and no hassle with embroidery. Looking forward to flying it.
Great experience
Great experience
Great Suit
Excellent buying experience. Measuring tutorial was easy to understand and do at home. Suit arrived on time and exactly as specified. It fits great and I will definitely keep coming back for more. 3rd suit from Vertical.
Great. Definitely felt tight at
Great. Definitely felt tight at first but read your instructions and very happy