The Viper Pro is based on our all time favorite Viper Suit. It allows for optional integrated Poron pads and is optimized for Dynamic Flying performance. Perform at your highest level when flying with a jumpsuit that fits like a second skin and gives you the power you need when you need it the most. This suit is Epic!
Features
Flying type
Belly flying, back flying, sit flying, head down, tracking and angle flying

Optimized for Freefly and Dynamic flying
Suit Fit
Form fitting suit
Choice of tight or medium fit
Materials & Construction
Choice of Cordura 160 or 4-ply Taslan, Cordura and Schoeller Windproof Spandex
Windproof YKK zipper on torso and inside pocket
Mesh lining on torso, arms and legs
Integrated G-Form poron pads available
Windproof spandex articulations on lower back, torso side, hip flexers, above and behind knees and elbows and on crotch
Articulated knees and elbows in Cordura
Double stitched seams with bonded thread
Reinforcement in key areas for extra durability
Standard Options
Mesh lining on torso, arms and legs
Inside chest pocket
#verticalviperprosuit
Customer Reviews
Write a Review
Ask a Question
Filter Reviews:
everything
Vertical
suit
quality
tunnel
measurements
customer service
glove
experience
guys
20/04/2020
Lisa D.
United States
Stoked!!!
Everything went great. I had a tunnel coach measure me and before starting the suit Vertical reached out to confirm some of the measurements, which was appreciated. The suit fits awesome and I can't wait to get it in the sky/tunnel!
16/04/2020
Dalibor S.
Canada
Excellent service, product and follow up.
It was excellent. As good as the end product!! Unfortunately due to the weather and a little virus I have not yet been able to use it!!
16/04/2020
Nicole G.
United States
LOVE IT
Was hoping to get to fly this suit before writing a review, but with COVID19 I have not had the chance. The suit fits like a glove though and feels amazing! This is my third Vertical suit and I don't plan to fly anything else. I highly recommend any of Vertical's suits and know this one will fly great when I get the chance.
23/03/2020
abdulla a.
Canada
Perfect !
Size is fit ... fabric is amazing Good in the sky... and good in the preformance
19/03/2020
Kelsey B.
United States
Suit review
Suit fits great! The staff even checked with me after my initial submission of measurements just to make sure I would get the right fit! I couldn't be happier with my new viper pro.
24/02/2020
Luis C.
United States
Excellent Company
After hearing a lot of sizing horror stories with other custom suit companies I was a little skeptical to have someone measure me but the very detailed steps and examples led to a suit that looks and fits great. I had a few questions about the fit after receiving my suit and multiple employees got back to me very quickly to answer any questions I had. I will definitely be a Vertical customer for a long time.
17/02/2020
Kyle C.
Australia
Best in the Business
As always, fast response, great service, the best fitting suit that lasts a long time. Gold Medal to Vertical Suits again. Love you guys
12/02/2020
todd t.
United States
Medium fit viper pro
Purchasing was painless. Customer service was on point. Suit came quicker than original ETA. I love everything about the suit except the neck. The flex / magnetic collar digs into my neck any time I look down or tuck my chin (which is very often). I measured my neck again and can't figure out why this is happening. I only zip it all the way up for tunnel, skydive I leave it unzipped a little so it doesn't distract / discomfort me. It's a big enough issue that it makes me hesitant to wear the suit unless I need it. But not worth the time/money/hassle to send it back for adjustment. If not for this issue, I would wear the suit on every single jump, the rest of it fits amazing. If not for the neck issue, would be a 5 star review. I have only put about 20 skydives and maybe 30 minutes in the tunnel on it, so not enough time to review durability yet.
06/02/2020
Christopher T.
United States
Perfect
The whole process was super easy! Vertical reached out to about a couple of questions and responded quickly. The suit was delivered a month early which was a pleasant surprise. Can't wait for this spring to start jumping it.
22/01/2020
Cody R.
United States
Perfect!
Order was easy, shipping was fast, arrived a month before estimated date. Fits like a glove. Vertical nailed it
05/01/2020
xingmiao c.
United States
good
very good!it perfect fit me
26/12/2019
Tim D.
Canada
My Second Suit
My Viper Pro is excellent just like my Viper. Fits like a glove and is perfect for the tunnel. Vertical Ordering and Customer Service is the best in the business. They keep you up to date and the build quality is beautiful. If your suit doesn't fit you might want to check your measuring? High fives to the Vertical Crew!
24/12/2019
Nico M.
United States
Viper Pro
The entire process of ordering my suit was a world class experience. I originally sent in my measurements and was quickly notified that my measurements weren't adding up and that I should re-measure certain areas. This happened several times until I was finally notified thy they were adding up. My Viper Pro suit arrived and it fit perfect. Without the thoroughness of the employees carefully examining my measurements my suit would not have fit properly as I sent in measurements that were off several times. This is the most professional company I have ever dealt with and the customer service is world class. -Nico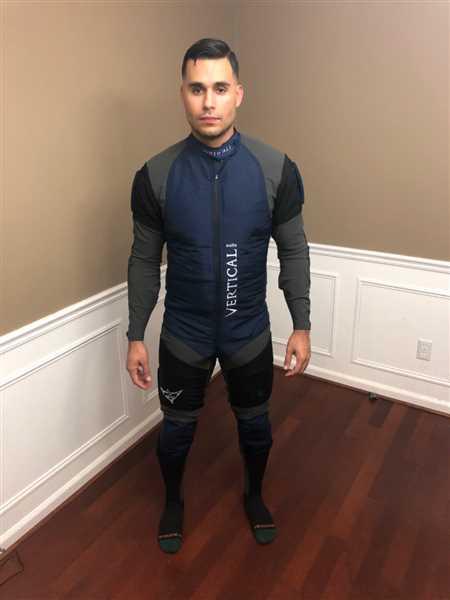 13/12/2019
Renee S.
United States
11/12/2019
Aaron L.
United States
Love it - flies fantastic!
Smooth, long process. Well made. Good communication from Vertical throughout.
03/12/2019
Sarah H.
United States
Love Everything About My Suit!
Everything about ordering my Vertical suit was perfect, my rep double-measured everything and I was contacted by the patternmaker to confirm a handful of measurements prior to them cutting the pattern. It couldn't have been easier. I expedited my order, and it arrived in 3 weeks - I was just blown away at the speed! My suit fits exactly right. The only other garment I've had tailored to my body was my wedding dress, and let's be honest, the Vertical suit is way more fun! Thanks for everything, I'm loving flying under the Vertical logo.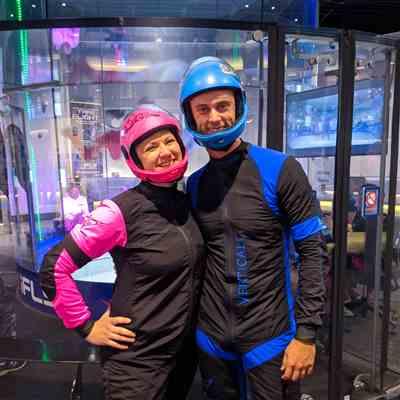 29/11/2019
Alan T.
Singapore
Another great suit from Vertical!
Fantastic service as usual. Love the fit of the suit, and my tunnel flying was noticeably better the moment I switched to it.
25/11/2019
Hank S.
United States
Purchase was pretty easy... after
Purchase was pretty easy... after the measurement were taken. The suit fits pretty good, except that it chokes me when I am knee flying, or when I sit and look down.
14/11/2019
michael d.
United States
Outstanding!
Incredible experience throughout the whole process. Very professional and courteous staff.
05/11/2019
Kaitlyn C.
United States
Fits like a Glove
Absolutely loving this suit. Fits and flies like a dream. You guys rock!